KNIGHT FOUNDRY … PRESERVING OUR HISTORY
Sutter Creek's Historic, Industrial Crown Jewel. The Knight Foundry, set in the heart of Sutter Creek, California, is America's last water-powered foundry and machine shop. Established in 1873 by Samuel Knight, this extraordinary facility includes the unique historic equipment and machinery, still in place in its original context, just as it was during its Gold Rush-era heyday.
Knight Foundry is nationally recognized as a National Historic Mechanical Engineering Landmark and a California Registered Historical Landmark. The Foundry is listed on the National Register of Historic Places and was named by the National Trust for Historic Preservation as one of America's eleven most endangered historic places.
Amador's Heritage
As a part of Amador County's industrial heritage corridor, the Knight Foundry will join the Kennedy Mine, Kennedy Tailing Wheels, Central Eureka Mine, and Miners' Bend Park to tell the story of how local industry created, and then contributed to, the viability of the Mother Lode communities of Sutter Creek, Amador City, Jackson, and others. The Foundry will serve as an educational resource that provides a unique window into Amador's history and heritage.
SPECIAL EVENT: SECOND ANNUAL FEAST AT THE FOUNDRY DINNER
Dinner and Music to benefit Knight Foundry restoration projects
Saturday, September 22, 2018 6pm – 9 pm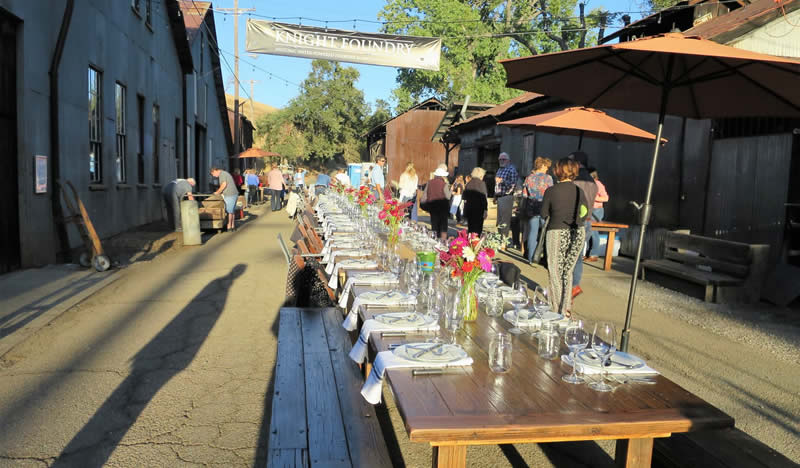 Come experience a delicious meal cooked over open fires and served on tables stretched along Eureka Street in downtown Sutter Creek, CA, home of the historic Knight Foundry complex. Meet friends old and new as you enjoy appetizers and no-host beer and wine at the Saloon, stroll through the Foundry, place your bids at the silent auction, and shop at our gift shop. Then sit down to a barbecue meal with salad and dessert served family style (vegetarian options also available) as you are entertained by beautiful music.
Seating is limited and this event WILL SELL OUT. Tickets are $50.00 per person and will not be available at the door. Your ticket includes appetizers, dinner, music, and a souvenir wine glass to take home.
See you at the Feast!
Tickets are also available at Tomorrow's Heirlooms, 49 Main Street, Sutter Creek, 209-267-5505.
Feast at the Foundry is part of Sutter Creek Heritage Days, September 22-23.
Knight Foundry will be hosting a free open house for the public during Heritage Days from 10am to 4pm on Saturday and 11am to 2pm on Sunday.
A Unique Educational Facility
The Knight Foundry is a premier relic of Mother Lode gold mining history. From precision equipment for our hard-rock gold mines, to the lights of San Francisco, to the impulse turbine systems that powered many of the state's hydroelectric plants, the Foundry literally helped to build California. When restoration is completed, this unique facility will allow partnership opportunities for high schools, colleges, and universities to provide hands-on training to engineering, museum studies, and history students, and will be a center for teaching crafts and skills that are in danger of dying out.
A National Mechanical Engineering Monument
The Knight Foundry is the last water-powered foundry and machine shop in America, and one of the nation's best preserved 19th-century industrial complexes. The preservation and restoration of the Knight Foundry provides an unparalleled opportunity to protect the history of industrial technologies as they were traditionally implemented, and to pass them on to future generations.
Please join us in our efforts to preserve Sutter Creek's Knight Foundry!
EXPERIENCE THE KNIGHT FOUNDRY
Public Knight Foundry Guided Tours
Knight Foundry in Sutter Creek is America's last water-powered foundry and machine shop and a premier relic of Mother Lode gold mining history. Join us for one of our Guided Tours on the second Saturday of every month.
Tours begin at 10 a.m., 12 noon, and 2 p.m. Admission is $10 for adults 18 and older, $5 for students age 5-17, free for children under 5. Discover the compelling history that is historic Knight Foundry!
Upcoming tour dates: September 8, October 13, November 10, December 8.
No reservations are necessary.
Can't make it to the foundry? Visit our online Gift Shop.
Private Tours
If your family, group, or organization would like to arrange a private tour of Knight Foundry, please contact Ron Edgar at theknightfoundry@gmail.com or 209-560-6160.
SAVE THESE DATES
Sutter Creek Second Annual Heritage Days: Saturday-Sunday, September 22-23.
Knight Foundry Heritage Days Open House: 10am-3pm both days; free admission
Feast at the Foundry: Saturday, September 22
Demonstration Day: Saturday, October 13
See you at the Foundry! 81 Eureka Street, Sutter Creek, California 95685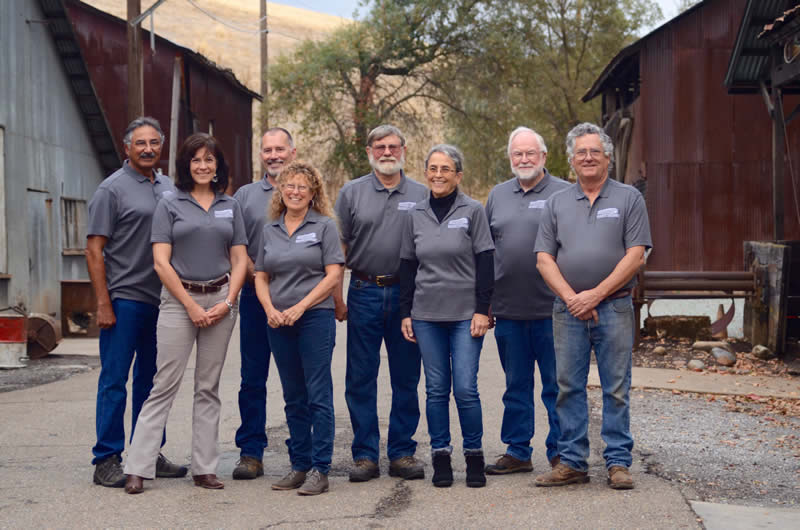 Meet the Knight Foundry Alliance Board of Directors
Frank Cunha, Carma Zisman, Robin Peters, Josie Cadieux-Faillers, Ed Arata, Mimi Arata, Ronald Edgar, and Joe Harralson