KNIGHT FOUNDRY … TOURS & EVENTS
Knight Foundry is open for Public Tours on December 12! Space is limited – advance tickets are recommended.
Advance tickets for Saturday, December 12 can be purchased using the form below. You will need to select a time to enter the Foundry complex.
If you are a Knight Foundry Alliance member, or you already have a ticket, your admission will be complimentary, but you still need to complete and submit the form so we have your reservation.
Space will be very limited due to COVID-19 restrictions. Face coverings will be required inside the Foundry complex. Tickets may be available at the door for some time periods.
Purchase Advance Tickets for the Saturday, December 12th Public Tour.
Please follow these steps to purchase tickets for the December 12th Public Tour:
1) Fill in the form below following the exact instructions. Be sure to read the fine print.
2) Write down on a piece of paper the total amount to be paid. (It will disappear when you click Submit.)
3) Click the "Submit" button.
4) Next, click on the PayPal button and enter the total dollar amount referred to above in #2.
5) Submit the payment.
6) We will confirm your purchase via email. Your name will be on a list at the door.
EXPERIENCE THE KNIGHT FOUNDRY
Public Knight Foundry Self-Guided Tours
Knight Foundry in Sutter Creek is America's last water-powered foundry and machine shop and a premier relic of Mother Lode gold mining history. Join us for one of our Self-Guided Tours on the second Saturday of every month.
Tours are now self-guided, so visitors can spend all the time they want in the Foundry complex, talking with docents and marveling at the magnificent machinery that's still intact and operating.
Knight Foundry opens at 10 a.m and the last tour tickets are sold at 3 p.m.
Admission is $15 for adults 18 and older, $5 for students age 5-17, free for children under 5.
Discover the compelling history that is historic Knight Foundry!

Upcoming Second Saturday Tour Dates (subject to change due to COVID-19 crisis guidance)
December 12, January 9, February 13, March 13
Classes at the Foundry
If you're interested in joining the mailing list for future Foundry classes, including Pattern Making and Introduction to Sand Casting, please contact us.
Private Tours
If your family, group, or organization would like to arrange a private tour of Knight Foundry:
Can't make it to the foundry? Visit our online Gift Shop.
See you at the Foundry! 81 Eureka Street, Sutter Creek, California 95685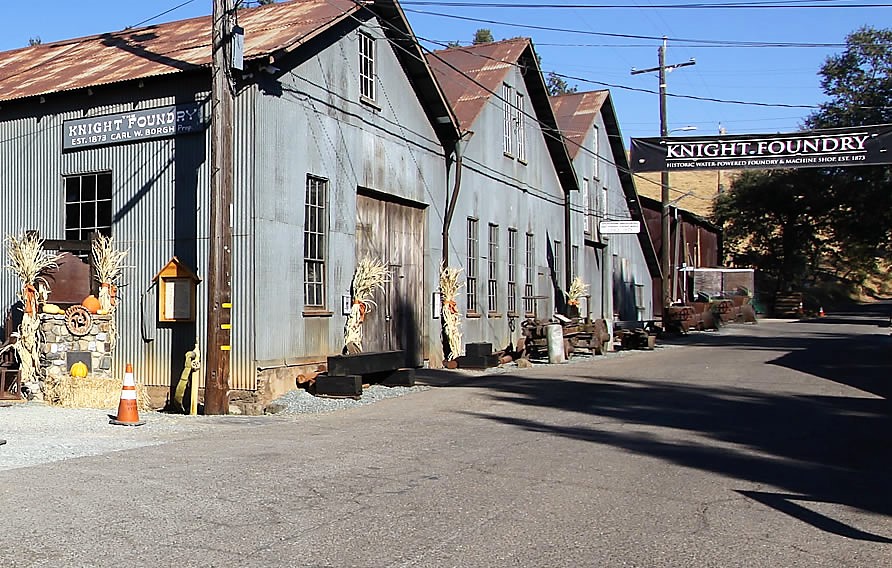 SUMMER 2019, Knight Foundry Visitor Review
"We visited the foundry yesterday and took the tour. It was fantastic! The way you have it arranged let us take our time and get answers to any questions we had. You have a great group of well informed and friendly docents that made us feel as if we were talking with old friends. They were all enthusiastic about the foundry and machine shop and it showed that they cared a lot about it. You are certainly blessed to have volunteers of this caliber. We will tell our friends about you. Thank you – Chris & Gail"