Knight Foundry's Green Sand Molding & Foundry Practice Workshop
General Course Description
Green Sand Molding & Foundry Practice General Course Description
Students will be presented with a comprehensive overview of traditional and fundamental green sand molding & metal casting techniques.
Students begin with an understanding of the Knight Foundry facilities and a discussion of foundry dangers, safety techniques and precautions. Students will then move to the foundry for in-depth training on green sand composition, its unique and peculiar properties in the foundry, and sand conditioning techniques. Students will be introduced to the furnace, with an indoctrination into its operations and associated safety precautions.
Students will create green sand molds using patterns provided for the workshop. Instructors will demonstrate to students classic molding techniques and practices, adding tips & tricks as students sharpen their skills. As molds are completed and readied for pouring, the furnace will be fired and our staff will demonstrate safe pouring procedures and then supervise as students' molds are poured in aluminum.
Lunch will be provided. During lunch our instructors and historians will be available to answer questions on the history of Knight Foundry, its historic significance in the community, and the current activities and goals of the Knight Foundry Alliance.
After lunch, students will learn the basics of how gray iron castings have been produced at the Knight Foundry since 1873, together with a brief discussion of how molding and casting methods differ between metals. Then students will be introduced to cores and core making, followed by another molding session using patterns which incorporate cores and training which emphasizes the special venting requirements associated with cores. As molds are completed and readied for pouring, the furnace will be fired again and students will pour the molds they have made.
Following both morning and afternoon pouring sessions, molds will be shaken out and castings inspected for defects. An in-depth discussion of casting defects, their causes and solutions will follow with an emphasis on defects common to aluminum and iron castings. The afternoon winds up with a broad overview of other molding and casting techniques together with questions, answers and a general discussion of the day's activities.
Our introduction to green sand molding & foundry practice workshop is a fast-paced and intensive course on foundry practice for adults interested in learning the fundamentals of aluminum and iron casting in green sand molds. Courses begin at 8:00 am sharp, include a working lunch and lecture, and conclude at approximately 4:30 pm. We recommend comfortable shoes and clothing, as students will be on their feet for most of the day, and we encourage a good night's sleep in advance.
Please note that this course description is general in nature and we may find the need to adjust it somewhat for a variety of reasons. The furnace is quite loud, and while it's music to our ears we do have trouble teaching over it, and sometimes we find it best to combine pours into one afternoon pour. Additionally we love to teach, which is to say we talk a great deal and sometimes we find ourselves behind schedule and scrambling to make up time. No worry … we'll adjust on the fly to make the program just as fulfilling and educational as described here.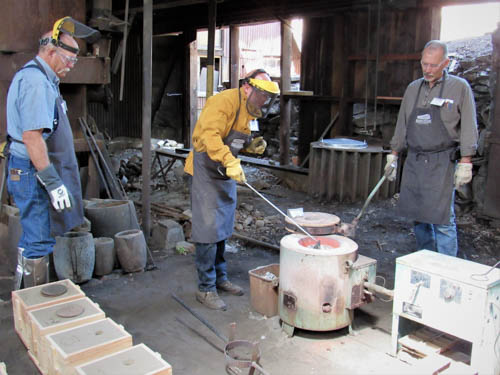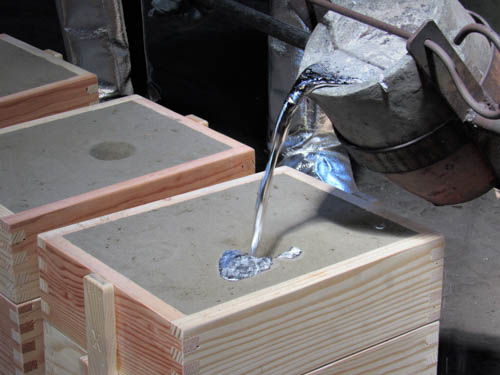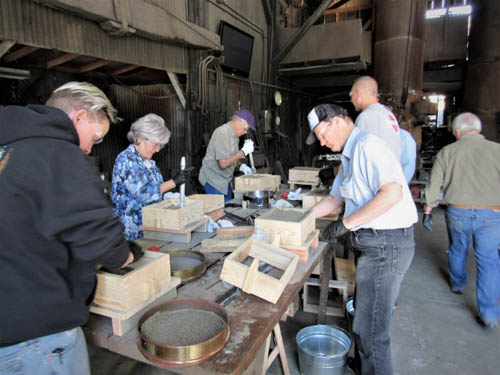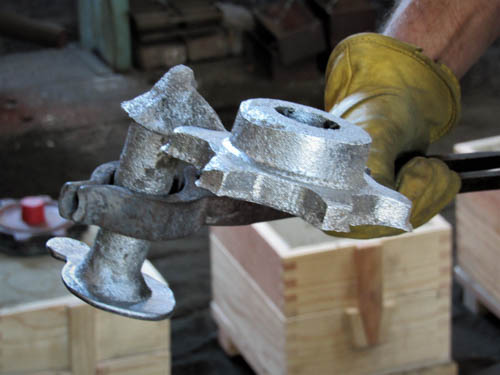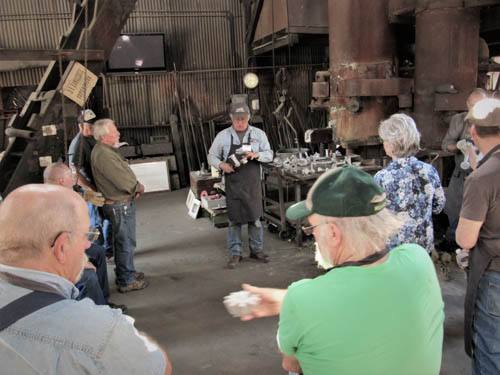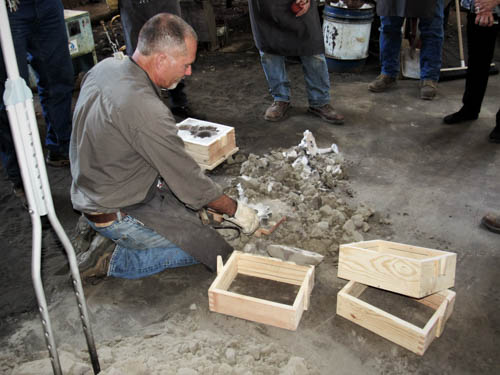 General Course Outline and Schedule
8:00am – 4:30pm
7:30 – 8:00 Registration & welcome
8:00 Introduction Outline of the day's activities & introductions
Safe practices, safety gear & precautions
Brief tour of the Knight Foundry's metal casting facilities
9:00 Green sand molding Green sand composition and sand conditioning
The furnace and how it works
Molding equipment, techniques, tips & tricks
Students create molds of their own
Fire furnace, pour the morning's molds & shake out
12:00 Lunch (provided)
Informal discussion of the Knight Foundry, its historic significance & the Knight Foundry Alliance (as time allows)
1:00 Advanced techniques Cores, their use, and core making techniques
Students create molds incorporating cores
Fire furnace, pour the afternoon's molds & shake out
Video of iron casting at Knight Foundry (as time allows)
4:00 Discussion of results Casting defects – causes & solutions
Other molding & melting methods for future consideration
Questions & answers