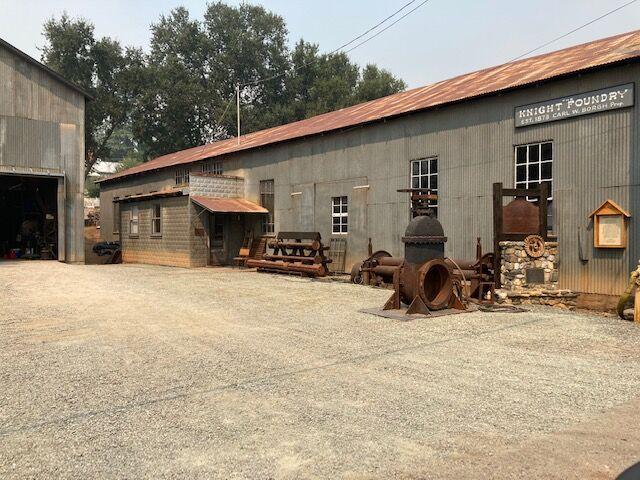 September 4, 2020 in the Amador Ledger Dispatch, page B7.
Written by Jack Mitchell. Photos by Ed Arata.
What better time for a little love and care than during a pandemic. We should have known that Ed Arata and the volunteers at Knight Foundry would be busy. What's been accomplished is amazing, some would even say — historic.
"We are headed into the 'Home Stretch' on the New Machine Shop project," said Ed Arata. "One of our volunteers was able to arrange a one-week donation of a large all-terrain man-lift from D&D Lifts in Tracy, so that we could finish the corrugated metal siding and do repairs on the high parts of the building."
With the front yard of the New Machine Shop cleared, a big usable space for displays is now ready on the perimeter.
Photo description: With new metal siding and good progress on window installation, the Knight Foundry, 81 Eureka Street in Sutter Creek, is quickly transforming back to all its glory.